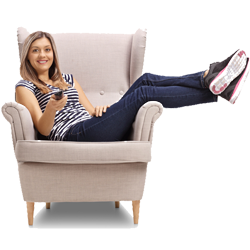 Every week, 1.7 million Las Vegas consumers watch something on TV.
Not too many years ago, when a Las Vegas consumer sat down to watch TV, the program options were limited to what was on KSNV, KVUU, KLAS, KTNV, KLVX, or, maybe, what was on a handful of cable channels. That was then. This is now.
Today, according to Nielsen, each time a TV is turned on in a Las Vegas living room, the viewer has more than 817,000 options not only from broadcast stations and cable systems, but also from streaming video platforms like Netflix, Hulu, Disney+, Peacock, YouTube, Amazon, Tubi, Crackle, and FreeVee.
Of course, Las Vegas consumers don't even need to sit down in front of their big-screen LCD, anymore. Most of the 817,000 available programs can also be viewed on their computers, tablets, gaming devices, and smartphones. But as far as viewers are concerned, though, it's all just television.