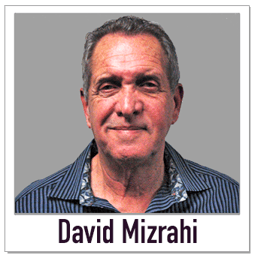 "We are firmly committed to radio advertising," says David Mizrahi, owner and President of Best Mattress. "For the past two years, we have been advertising on Las Vegas radio stations three to four weeks every month of the year."
Best Mattress is the number-one locally owned chain of sleep shops in Nevada. The company operates 17 stores in the Las Vegas area.
"We started the company 25 years ago with 6 locations. In all, if you count our stores in Mesquite and St. George, Utah," says Mr. Mizrahi, "we now have a total of 22."
Two years ago, after all his time in the mattress business, Mr. Mizrahi decided to aggressively invest in advertising on Las Vegas radio stations.
"Up until then, we had been depending on direct mail and newspaper advertising. But because we have stores just about everywhere, Valassis, the company we used for direct mail, just became too expensive. I could no longer justify the expense of sending out 700,000 pieces of mail that most people just throw away."
"So I took that money and invested it in advertising on Las Vegas radio stations," he says. "Now that I had cut way back on direct mail, I could afford to do radio the right way."
Las Vegas Radio Reaches Almost Every Mattress Buyer
According to Nielsen, 298,000 people living in Las Vegas area households will purchase a mattress this year. Radio reaches 90.2% of these consumers. This is significantly more mattress buyers than watch local TV, read local newspapers, or log-on to a streaming audio site like Pandora and Spotify.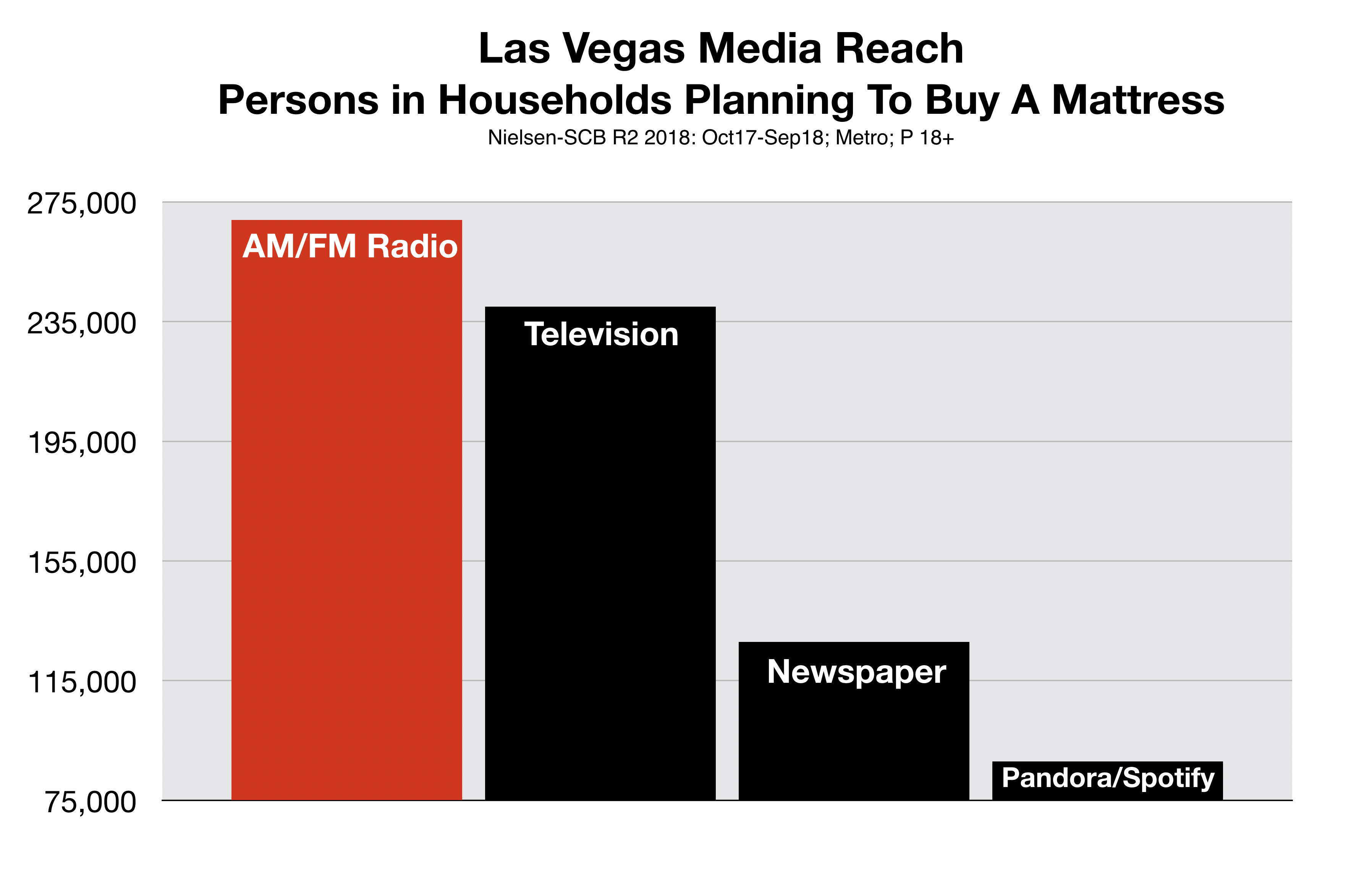 When Mr. Mizrahi says he wants to do radio right, he means he wants to reach every listener in the market who is planning to buy a mattress.
"A conventional approach to buying radio advertising is to cherry-pick the stations you buy. Usually concentrating on the ones that are most popular," he says. "I advertise on 18 different radio stations so I can make sure I reach everyone. Even the smallest radio stations have unique audiences that I can't reach anywhere else."
In addition to Las Vegas radio's universal reach among mattress buyers, Mr. Mizrahi finds another benefit.
"Most of my competitors are large, multi-national companies. Mattress Firm, for instance, is owned by Steinhoff, a South African company. Bob's Furniture, which just moved into Las Vegas, is owned by Bain Capital."
"All of our commercials on Las Vegas radio reinforce the fact that we are a local company. Every ad we run includes my voice telling listeners who we are and what our values are. We constantly remind people that when they do business with Best Mattress, they are dealing with an independent, hometown sleep shop. The other companies can't say that."
To help offset the cost of his aggressive advertising, Mr. Mizrahi depends on cooperative advertising funds provided by his vendors including TempurPedic, Beautyrest, and Stearns & Foster.
Cooperative advertising, or co-op, is a payment provided to local retailers for including a manufacturer's brand in its advertising. So, for instance, in half of Best Mattress's radio commercials, Mr. Mizrahi will mention Tempur-Pedic by name. In exchange, Tempur=Pedic picks up a portion of the cost of each of those commercials.
Co-op funds are available to 38% of all retailers. But, less than half of them take advantage of this "free" advertising money.
Mr. Mizrahi, on the other hand, uses all of his co-op funds. "Almost 40% of all of my advertising," he says, "is paid for from co-op."
Two years ago, when Mr. Mizrahi began investing in radio advertising, he was not sure if it would produce results. "I committed to myself that I would try it for six months regardless of what happened."
If anyone asks Mr. Mizrahi if his radio advertising worked, he replies, "I'm still on the air, aren't I?"
Advertising Advice From David Mizrahi
Mr. Mizrahi believes advertising on Las Vegas radio stations will work for most small business owners if they are prepared to do the following:
Create a budget that will work. Typically, 10% of sales.
Be patient. Don't expect results right away. Even with our aggressive budgets, it took almost 60 days before we started to see results.
Ask vendors to help out. Many of them will have co-op funds and other programs that they can provide to offset the cost of advertising.