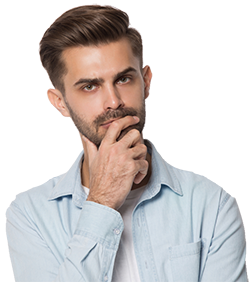 Advertising is critical to the growth and ultimate success of a Las Vegas small business. The U.S. Small Business Administration recommends that mature businesses should budget 7-8% of its annual income for advertising the company's goods and services.
Businesses that are in an early growth phase, however, should plan on investing 10-12%. Start-up companies that may not yet be familiar to their target consumers should consider investing even a larger percentage.
Deloitte, the world's largest business consulting firm, recommends that "radio advertising should be a big part of the mix for those buying advertising."
"Radio's weekly reach, the percentage of people who listen to radio at least once per week, has been remarkably stable in the United States," says Deloitte. "Not only has reach hovered around 94% for the last few years, but that number is essentially unchanged from the 94.9% percent figure in spring 2001 when Apple introduced the iPod."
Last week, for instance, 1.5-million adult consumers tuned-in to a Las Vegas radio station. This is significantly higher reach than local TV, newspaper, streaming audio, and social media.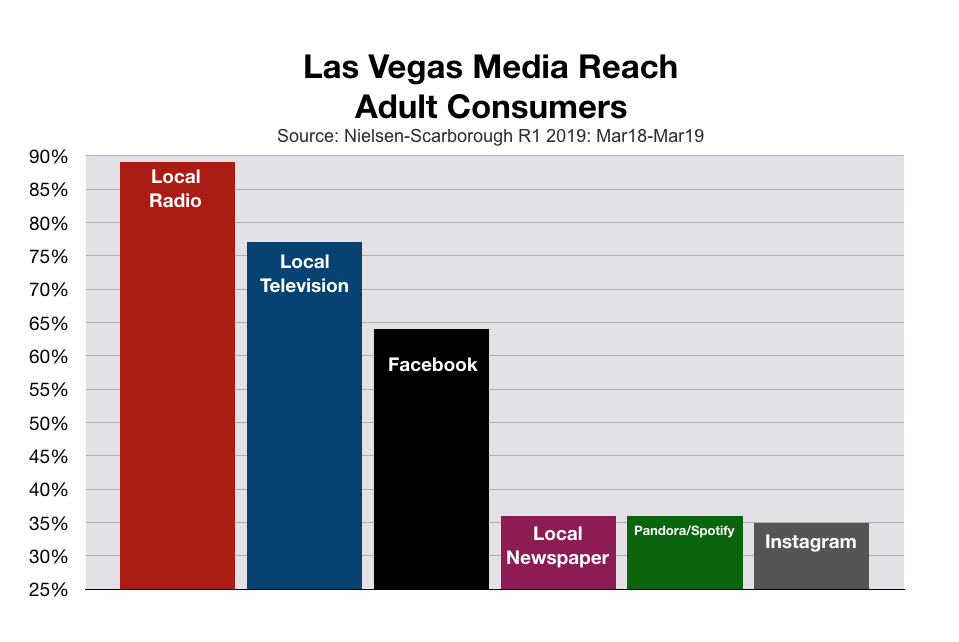 But, does advertising on Las Vegas radio make the cash registers of small business owners ring?
Each year, Las Vegas consumers spend $6.9 billion in restaurants and drinking establishments. Adam and Phyllis Barkin have earned a big slice of that retail pie when they took over Above The Crust Pizza in 2016.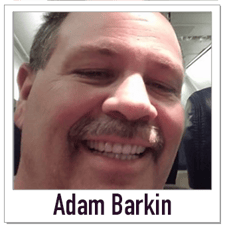 "Six months after we took over the company, we began to invest in advertising on Las Vegas radio to drive business to our first store on West Ann Road," says Mr. Barkin, who is responsible for Above The Crust's marketing.
"The results were remarkable," says Mr. Barkin. "I credit our first radio campaign with driving sales growth of five to ten percent a month."
The success of Above the Crusts first store, fueled in part by advertising on Las Vegas radio stations, allowed the Barkins to open two new stores over the past year. Eight more franchised locations will open up throughout Las Vegas by the end of 2020.
The real test of radio came when, after almost three years of consistently advertising, Mr. Barkin stopped.
"I wanted to see if our growth would sustain if we stopped marketing on Las Vegas radio stations," he says. "When we did, we saw sales drop by almost 3% per month."
Radio Advertising Keeps Iconic Las Vegas Business Top-Of-Mind
Ted Wiens Complete Auto Care has found similar success advertising on Las Vegas radio stations.
Over the past 12 months, Las Vegas drivers spent a total of $898,000,000 maintaining and repairing their cars and trucks. Needless to say, every small business owner with a service bay is looking to grab the biggest share of that automotive jackpot.
With more than 180 service bays at 10 locations, Ted Wiens Complete Auto Care has been winning this game for over 70 years.
So, how does family-owned small business compete with the major chains?
"We primarily advertise on Las Vegas radio stations to keep our brand strong," says Jennifer Wiens, the company's brand manager. "We are all about the Ted Wiens name. People may not need tires or service tomorrow or the next day, but when they do, we need them to think of us."
Top of mind awareness has become even more important for Ted Wiens Complete Auto Care.
"O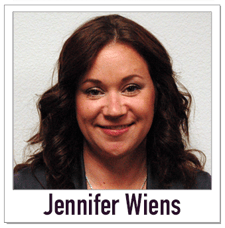 ne of the big marketing challenges we face is differentiating our selves from the 11 Firestone Tire Service Centers the opened in Las Vegas of over the past six years," says Ms. Wiens.
Ted Wiens Complete Auto Care has been a Firestone dealer since 1948 when Mr. Wiens, Sr. started selling them out of his Texaco filling station.
"For 70 years, our stores have been thought of as the place to buy Firestone tires. We have had some customers pull into a Firestone Center and think they are at Ted Wiens."
To clear up the confusion and keep the company name top of mind, Ted Wiens Complete Auto Care has been advertising on Las Vegas radio stations three to four weeks every month continually for the past eight years.
"Customers tell us all the time they heard about us on the radio. Most of the time they were in their cars when they heard our commercials."
Radio Advertising Increases Leads For Las Vegas Auto Dealer
"When we advertise on Las Vegas radio, we sell cars. Period. End of story," says Anthony Woods. He is a partner and General Manager of Centennial Toyota.
Last year was a huge year for Centennial. According to Mr. Woods, his team sold 6281 new and used cars setting a new record. "This volume makes us this 64th largest Toyota dealership in America out of 1,238.
"Las Vegas radio is our primary source of advertising, " says Mr. Woods. "We do a bit of digital and direct mail. Our television advertising is limited to the Hispanic market. And, we never use newspaper advertising. But, we have been advertising consistently on Las Vegas radio stations since I came to the dealership 12 years ago."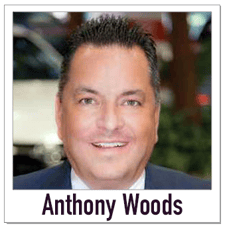 Mr. Woods is well aware of the positive effect radio advertising has on his business.
"We have advertised on Las Vegas radio stations for two weeks every month since 2007. I can tell when our commercials are running because we have a substantial lift in phone calls. Our web traffic increases. And the number of leads increases," says Mr. Woods.
"But most importantly we sell more cars when we advertise."
"Advertising on Las Vegas radio stations is a staple of what we do. It contributes to our year-over-year growth. As long as we are profitable, I am sticking with it. I am a firm believer that the more we spend in advertising, the more cars we will sell."
Radio Advertising Helps Our Businesses
Marketing expert Doug Schoen wrote an article for Forbes after he learned of local radio's resiliency in the digital age.
"You wouldn't know it from all the media coverage focused on streaming video and streaming music," wrote Mr. Doug Schoen, "but recent Nielsen data shows radio actually has the most reach among American media consumers."
He goes on to say, "It's quite clear that we should all be paying more attention to radio, its reach and potential to help our businesses. It's doing the job with expert efficiency."
More Advice For Las Vegas Small Business Owners