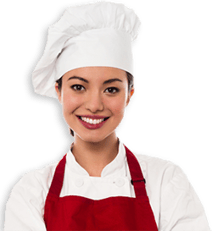 This year, Las Vegas area consumers will spend $6.3 billion in local restaurants and drinking establishments. There are thousands of local restaurants from Pahrump to Mesquite hungry for a bite of that cash.
Unfortunately, many of the restaurants that are here today will be gone tomorrow. According to FSR, an industry trade magazine, 60% of restaurants fail within their first year. Eighty percent never make it to their fifth anniversary.
CBI Insights studies why small business owners, such as local restaurants, fail. Reason number eight is poor marketing and advertising. Good food and friendly service are not enough to make a cash register ring.
"Think you have a great product?" asks the U.S. Small Business Administration. "Unfortunately, no one's going to know about it unless you advertise." The SBA goes on to say, "Advertising, if done correctly, can do wonders for your sales, and you know what that means: more revenue and more success for your business."By any metric, the best way to advertise a restaurant is on Las Vegas radio, here's why.
Nielsen recently conducted a study to determine which elements of an advertising campaign have the greatest effect on sales. The most important component is the message itself.
A second crucial element, though, was how many different consumers actually heard the message. This is what advertising professionals call reach.
It turns out that reach is more potent than branding, targeting, and recency.
Percent Sales Contribution by Advertising Element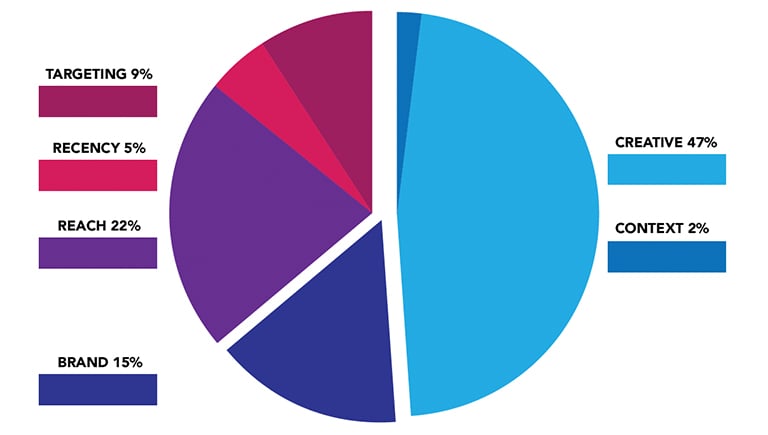 Of all local media, Las Vega radio reaches significantly more consumers who visit restaurants than are reached by local TV, local newspaper, or social media.
Last week, for instance, 89% of all adults who visited a local restaurant, were reached by Las Vegas radio. No other medium came close.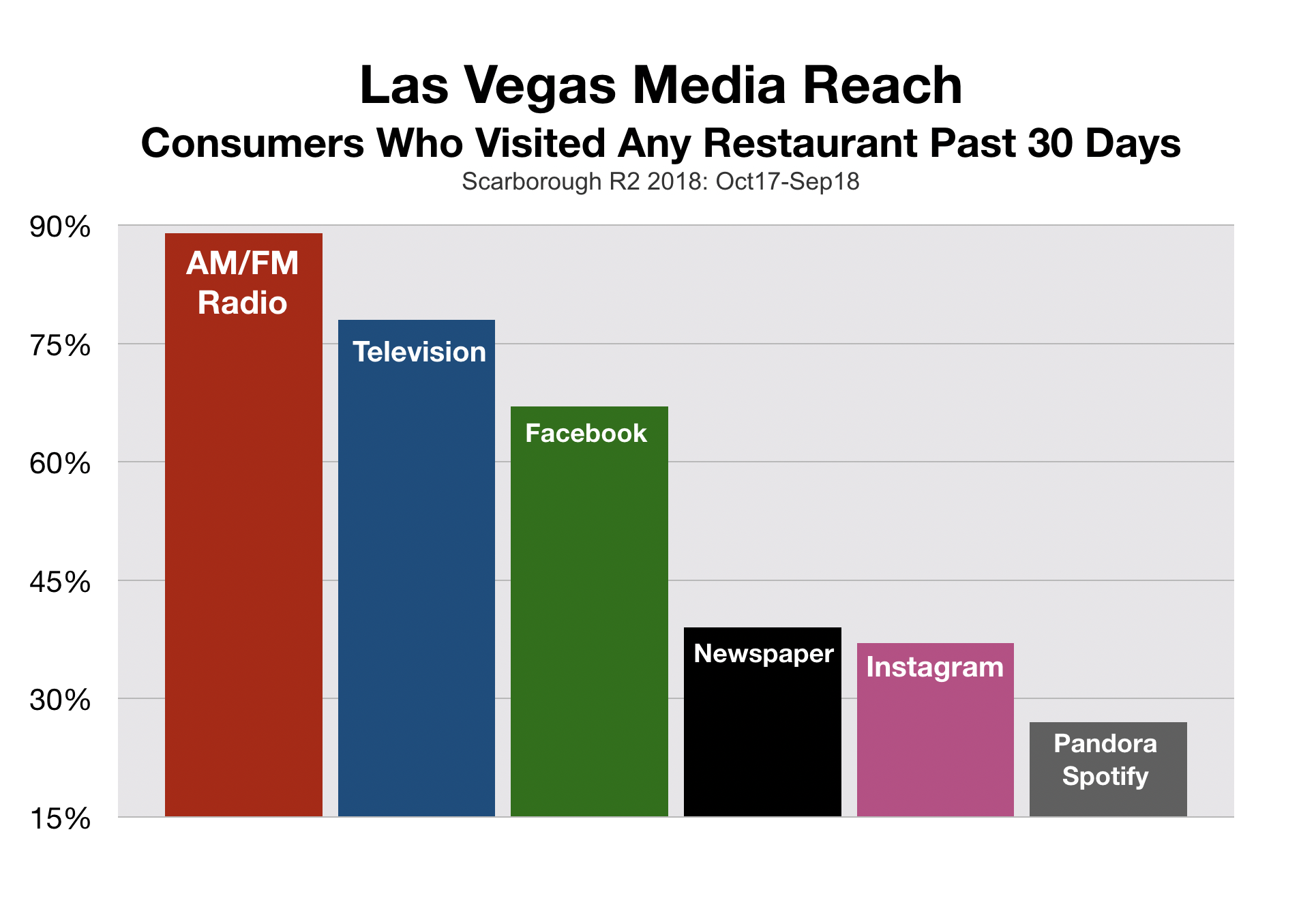 Radio was the dominant medium for every type of restaurant, regardless if the establishment was quick-service or sit-down.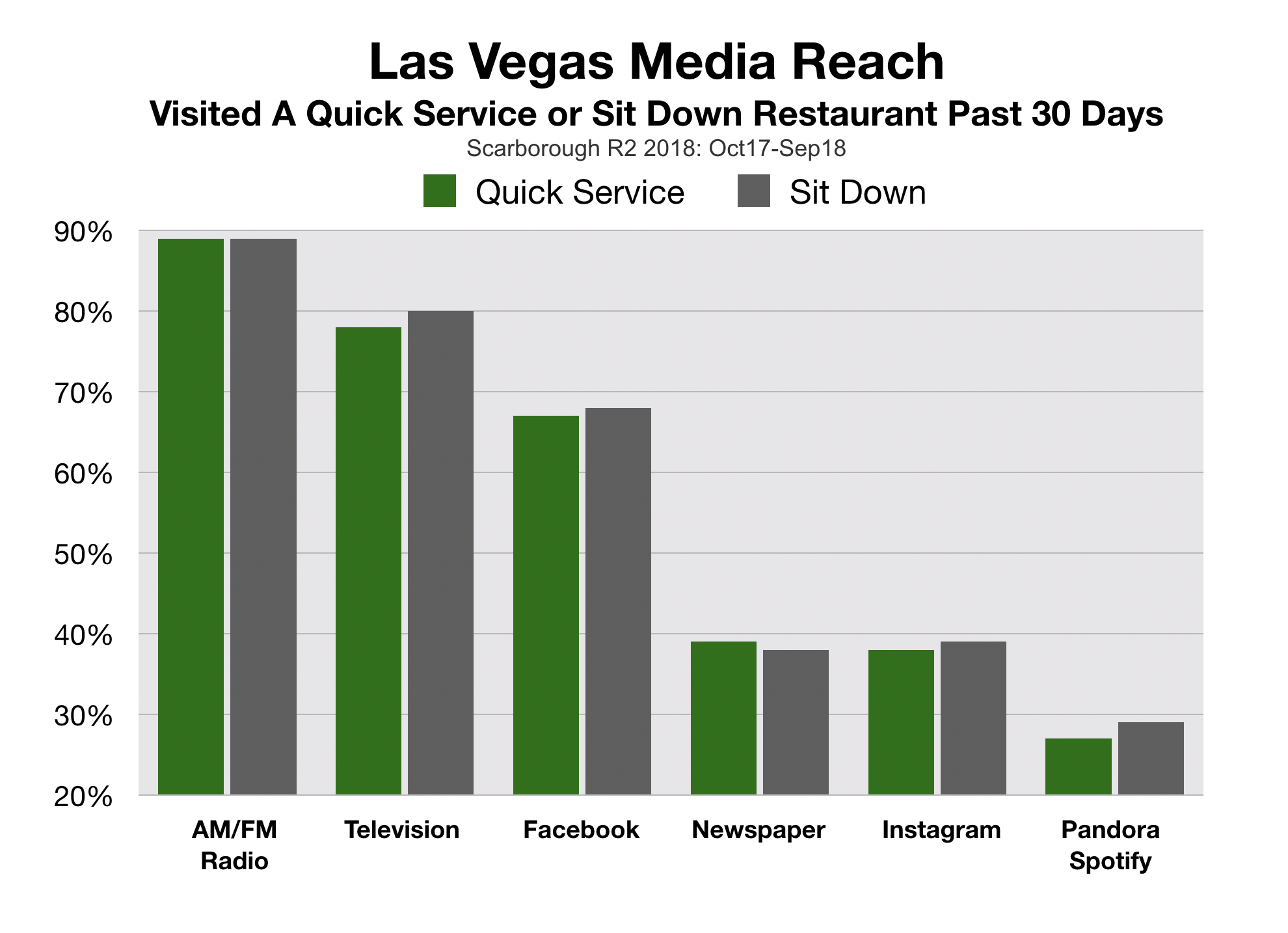 Most importantly, for any restaurant owner, radio is the key advertising medium used by Las Vegas area consumers who not only dine out, but who dine out several times each month.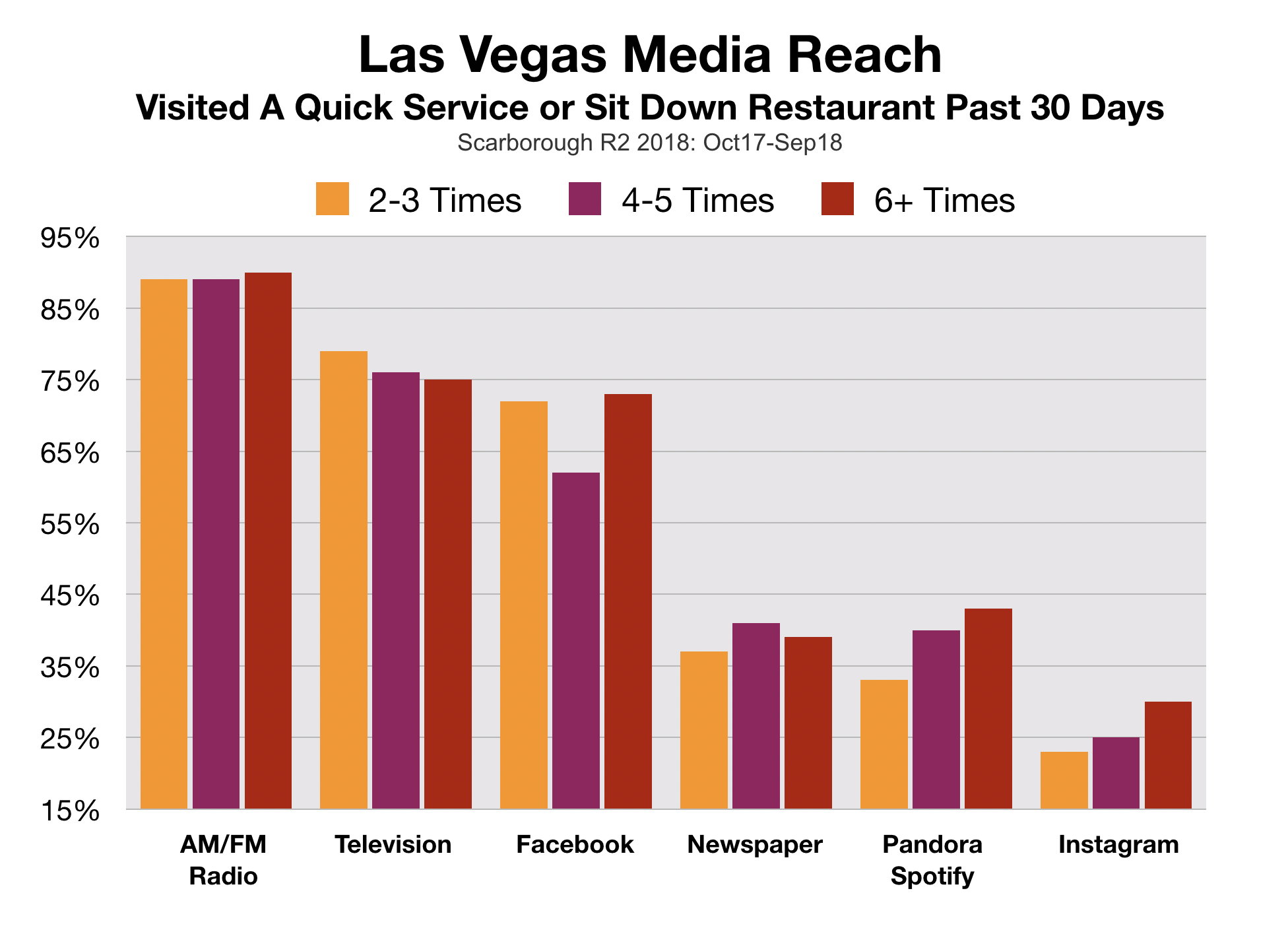 Regardless of the number of seats a restaurant has or it's location or the type of cuisine it serves, to beat the odds of surviving an eating establishment must advertise. The big chains like McDonald's and Pizza Hut plow 3% of every receipt back into its advertising budget.
Las Vegas Restaurant Sees 10% Lift From Radio Advertising
For local business owners, however, the SBA suggests that newer businesses should invest 10-12% of sales back into advertising, while more established operations should invest 6-8%.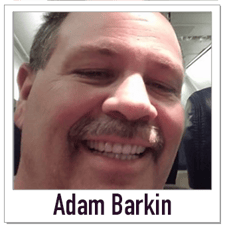 Adam and Phyllis Barkin have began earning a big slice of the restaurant spending pie when they took over Above The Crust Pizza in 2016.
"Six months after we took over the company, we began to invest in advertising on Las Vegas radio to drive business to our first store on West Ann Road," says Mr. Barkin, who is responsible for Above The Crust's marketing.
"I admit, I was skeptical that radio advertising would work for us. But after 30 days, three to five people were coming in every day and telling us they heard about Above The Crust on the radio," he adds. "They were even repeating our tag line, 'If it's good enough for THE family, it's good enough for YOUR family'. They all wanted to be part of the family."
Prior to the pizza business, Mr. and Ms. Barkin worked for Wendy's, where the couple first met. He was district manager overseeing hundreds of stores. She was a corporate director of training.
The Barkins' history in the quick service restaurant business taught them that a 1% lift in sales from a marketing effort should be considered successful. So, they were quite surprised at the results of their first radio advertising campaign for Above the Crust.
"The results were remarkable," says Mr. Barkin. "I credit our first radio campaign with driving sales growth of five to ten percent a month."
"When we opened the store," he says, "We depended on direct mail coupons to bring in customers. The people who use the coupons, though, will only come in when we offer a deal. These are not the type of people who we can count on to be repeat visitors."
"The people who came in from our radio advertising we started to see coming back," says Mr. Barkin.
The success of Above the Crusts first stores, fueled in part by advertising on Las Vegas radio stations, allowed the Barkins to open two new stores over the past year. Eight more franchised locations will open up throughout Las Vegas by the end of 2020.
More Advertising Advice For Las Vegas Small Business Owners