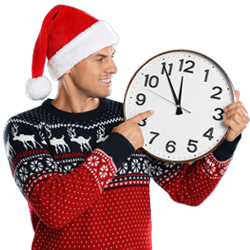 There is cheerful news for small business owners from Henderson to Summerlin and every city and town in between.
Based on the latest projections from the National Retail Federation, holiday sales are expected to grow 3.6%-5.2% over 2019. This means despite the economic ravages of the pandemic, Las Vegas area shoppers will be spending between $5.2 and $5.3 billion on gifts and other trappings of the season.
The NRF forecast is based on an economic model that takes into consideration a variety of indicators including employment, wages, consumer confidence, disposable income, consumer credit, previous retail sales and weather. NRF defines the holiday season as November 1 through December 31. Numbers forecast by NRF may differ from other organizations that define the holiday season as a longer period or include retail sectors not included by NRF, such as automobile dealers, gasoline stations and restaurants.
"Consumers have shown they are excited about the holidays and are willing to spend on gifts that lift the spirits of family and friends after such a challenging year," says NRF President and CEO Matthew Shay. "We expect a strong finish to the holiday season."
"Given the pandemic, there is uncertainty about consumers' willingness to spend, but with the economy improving most have the ability to spend," NRF Chief Economist Jack Kleinhenz said. "Consumers have experienced a difficult year but will likely spend more than anyone would have expected just a few months ago."