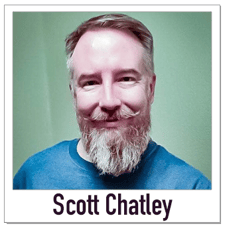 If you were one of the 1,502,898 adults who tuned-in to a Las Vegas radio station last week, you probably heard a commercial for the Panda Law Firm (aka Peters & Associates).
"Advertising on Las Vegas radio stations has been an integral part of the firm's growth," says Scott Chatley who has been handling the marketing for Panda law since 2010. "We bought our first radio commercial in 2011 and have been on the air ever since."
Market research affirms Mr. Chatley's use of radio advertising to expand the firm's caseload.
Each week, Las Vegas radio stations reach significantly more local consumers who are likely to hire an attorney than are reached by local TV, local newspapers, or streaming audio sites such as Pandora and Spotify.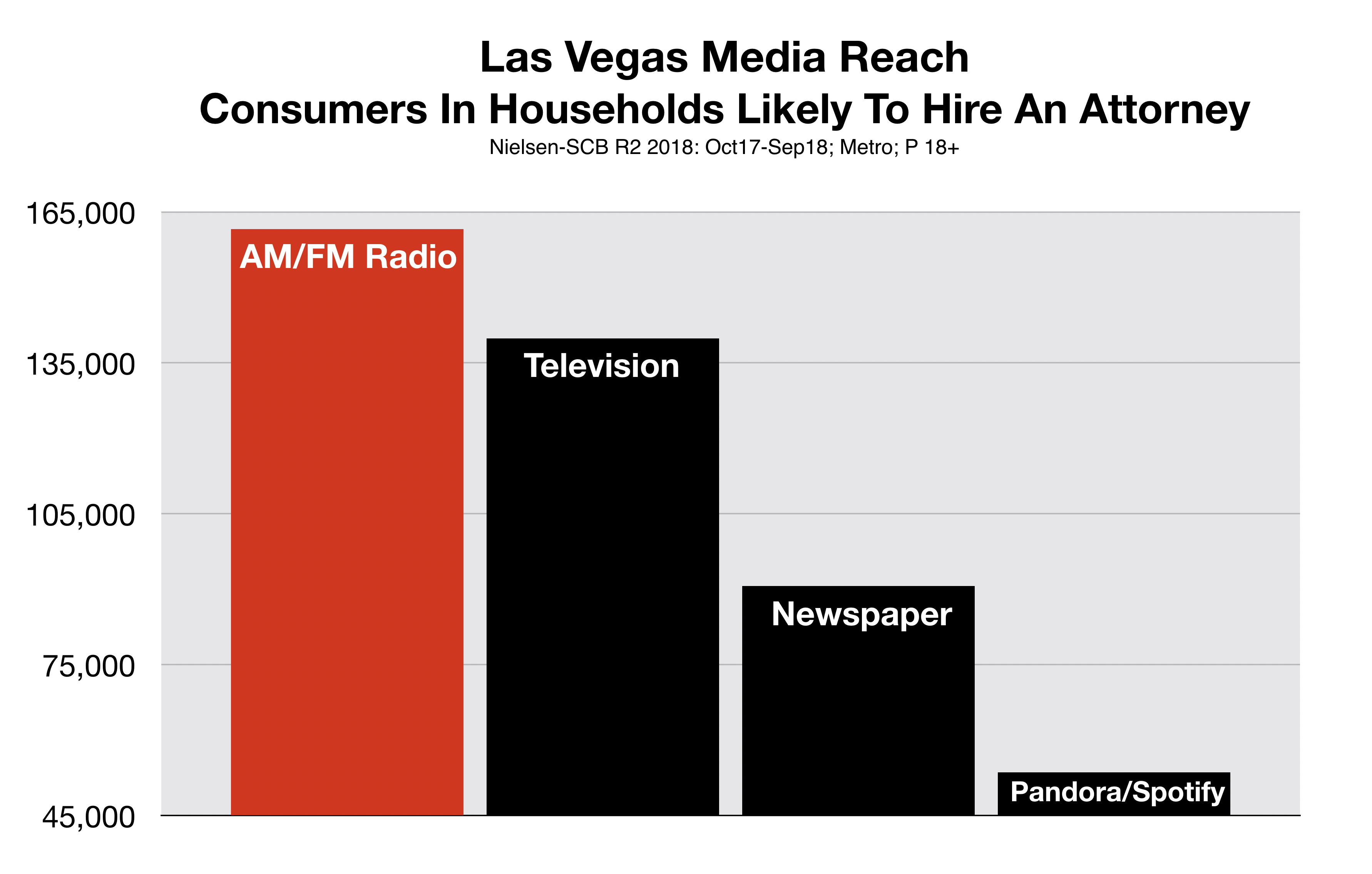 To advertise Panda Law successfully, Mr. Chately believes in using multiple media to build both reach (the number of consumers who hear a message) and the frequency (the number of times a consumer hears a message).
To achieve this, Panda Law invests, depending on market conditions, between 50% and 75% of their traditional media budget into advertising on Las Vegas radio. The remainder is used for television advertising.
A research study commissioned by Westwood One supports Mr. Chatley's multi-media approach.
The study looked at a campaign designed to compel consumers to tune-in to a new show on a national cable network. The campaign utilized both TV and radio advertising.
According to the findings, the consumers who were most likely to tune-in to the new show did so because they had been exposed to the advertising at least six times. The chart below demonstrates that combining radio and TV messages increased the number of people who were reached six-plus times by 80% versus just using television advertising alone.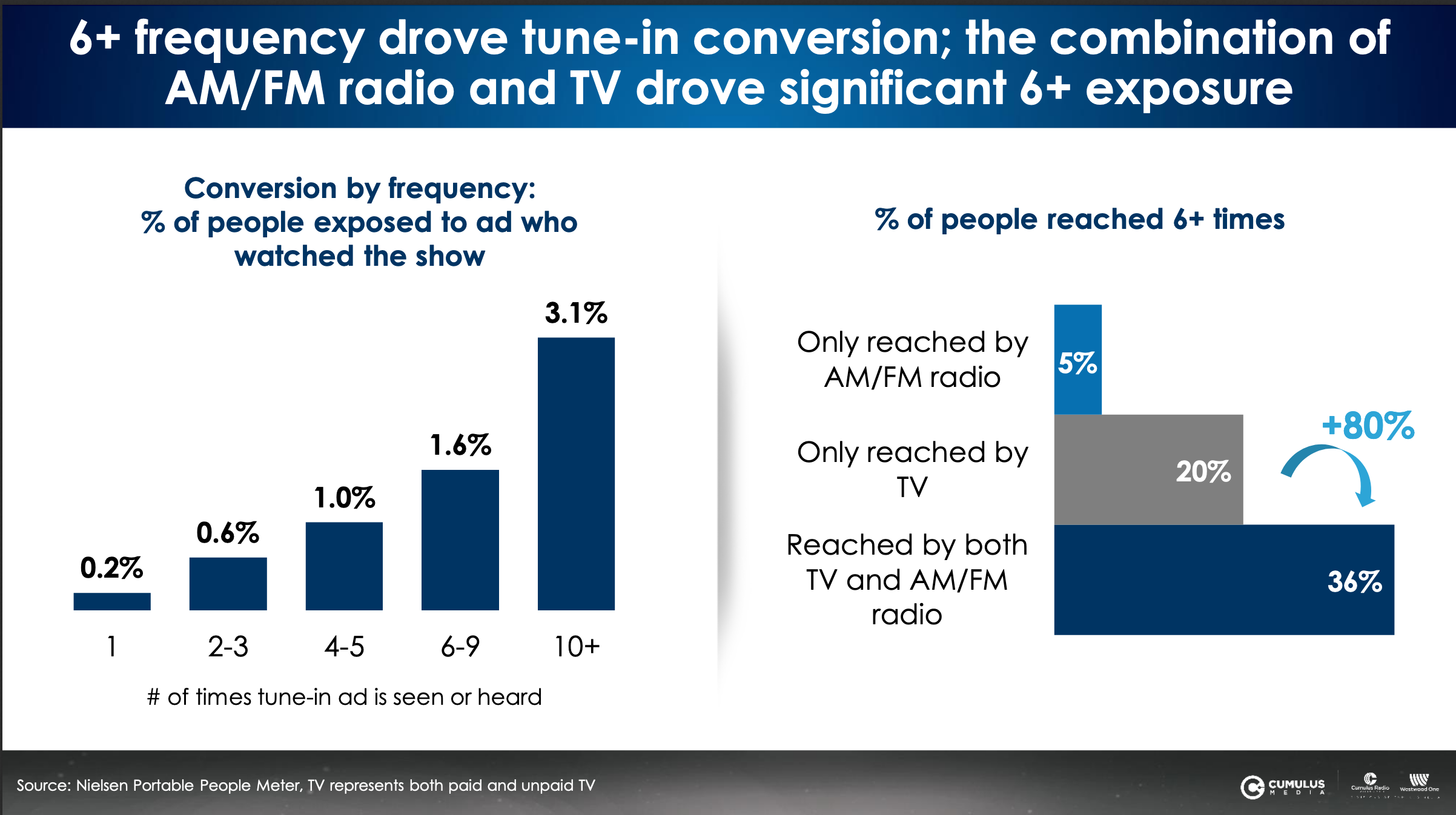 "This synergistic approach, really produces billable hours for us," says Mr. Chatley. "That's the only metric I really care about. I am not interested in the cost-per-lead (CPL) or other key-performance-indicators (KPI). I just want to know what my return-on-investment is (ROI)."
"With TV alone I generate $3.00 in billing for every $1.00 invested. I expect radio to deliver the same."
"But," Mr. Chatley continues, "when I use both media synergistically, we earn $5.00 for every $1.00 invested.
Mr. Chatley adds, "when advertising across several media, it is essential that the same message is being conveyed. In the case of the commercials for Panda Law, regardless if we are on Las Vegas radio or television we always make sure the consumers know that although our ad might be light-hearted, we take their legal issues very seriously."
Panda Law has been using humor in its advertising since partners Xenophon Peters and Judah Zaklaik hung their shingle in 2010.
Mr. Peters and Mr. Zaklaik pooled their extensive knowledge of real estate law to help local homeowners navigate the complexities of loan modifications, foreclosures, and bankruptcies brought on by the great recession.
"As the real estate market began to heal from the financial crisis," says Mr. Chatley, "Peters & Associates began to add additional legal services including personal injury and family law. But the primary focus of the firm evolved from bankruptcies and loan-modifications to debt relief."
We Had To Be Creative To Compete
"The market, by then, had become saturated with firms offering legal services," he adds. "So, we really wanted to amp our advertising. But to really compete, I knew we had to get creative to keep consumers from becoming ad-blind."
"To do that," says Mr. Chately, "I wanted humor to be a part of our advertising. Debt is a very sensitive issue that most people are hesitant to discuss. I knew that if we could add a bit of humor to the topic, then people might be a little less ashamed and call Peters & Associates for assistance."
"It was about this time we started playing with the idea of integrating our Panda branding," says Mr. Chatley. Panda is a mash-up of Peters & Associates. It uses the "P" from "Peters", the "and", plus the "A" from Associates.
"One of our very first television commercials opened up our two partners standing against a white background looking very serious and staring directly into the camera. This opening shot was meant to look like all the other ads for law firms that people were used to seeing."
"Then," says Mr. Chatley, "one of the partners says, are you tired of boring law firms that look like this one? At Peters & Associates so are we. So, instead of more of the same, here's a guy in a panda suit to tell you about a firm. And then, literally, a guy in a Panda suit delivered the rest of the script."
Mr. Chatley admits that the firm only invested a small budget to broadcast the first Panda commercial. "But, he says, "the ad created enough new business, that the partners quickly decided to expand the marketing budgets. That's when we add Las Vegas radio stations into our marketing mix."
In addition to traditional 60-second radio commercials, Panda Law also finds other non-traditional ways to extend their presence on Las Vegas Radio.
Non-Traditional Forms of Advertising On Las Vegas Radio
"From 2012-2014 we created a weekly, paid-program on a local radio station called 'Debt Free Las Vegas' where the Panda Law partners dispensed guidance for avoiding and reducing debt," says Mr. Chatley. "The show's audience grew very quickly. It was a great way for the Panda Law firm to build trust among consumers."
That one-hour show morphed into a segment on a very popular Las Vegas radio morning show called the Legal 120. The two-minute segment involves the show's host taking a legal question from a listener and having one of the Panda Law partners provide advice.
"This segment allows Panda Law to capitalize on the trust that radio personalities have earned among their listeners. By extension, this trust is likely to be transferred to our firm."
"The other thing we can do with Las Vegas radio stations that we can't do with other media is to create interaction with the listeners," says Mr. Chatley. "We regularly send our Panda mascot to shake hands and take pictures at radio stations sponsored events. You really can't do that with TV."
Note: Mr. Chatley is now President of Right Beach Media Group in Las Vegas. His new company still manages the media and marketing for Panda Law.
More Great Advertising Advice For Las Vegas Business Owners