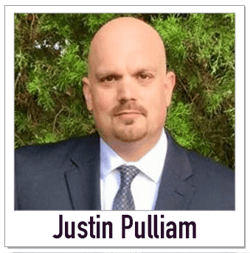 "A lot of businesses grow by word of mouth, but that doesn't work for us," says Justin Pulliam, one of the founders of NuMale Medical Center. "Our patients are very private about the services we provide to them, so they aren't going to tell anyone they've been to our office."
NuMale Medical Center provides treatments for erectile dysfunction, hormone replacement, bioidentical testosterone replacement; hair restoration, and other services for men.
"Because we can't rely on word of mouth," says Mr. Pulliam, "we depend on advertising to educate men in Las Vegas about who we are, what we do, and how we can help them."
Advertising on Las Vegas radio stations is NuMale's primary form of marketing. "I wouldn't have a business if it weren't for radio advertising," says Mr. Pulliam.NuMale began advertising on Las Vegas radio two weeks before their office opened in 2013. "I know our radio advertising worked because we had a full slate of patients from day one. Radio was the only way they could have heard about us."
Since then NuMale commercials have been on Las Vegas radio stations seven days a week, 52 weeks a year.
"In the old days," says Mr. Pulliam, "you could put a small ad in the newspaper and advertise 'male' services and then be flooded with inquiries. But, nobody really reads the paper anymore."
"Advertising on TV has become a challenge," he adds, "because technology makes it possible to easily skip commercials. And popular channels like Netflix and HBO have no commercials at all."
"Radio is the only advertising medium," says Mr. Pulliam that has stood the test of time."
"First of all, in Las Vegas people sit in traffic all day long with nothing to do but listen to the radio. Plus it provides quality entertainment for free. They don't need to pay a for Sirius/XM or a premium streaming service."
Most importantly radio reaches NuMales primary demographic that Mr. Pulliam calls 'men of a certain age' (35-64).
According to Nielsen, each week 90.7% of all 'men-of-a-certain-age' tune-in to their favorite Las Vegas radio stations. This is significantly more than watched local TV; read a local newspaper; or log-on to an audio streaming service like Pandora or Spotify.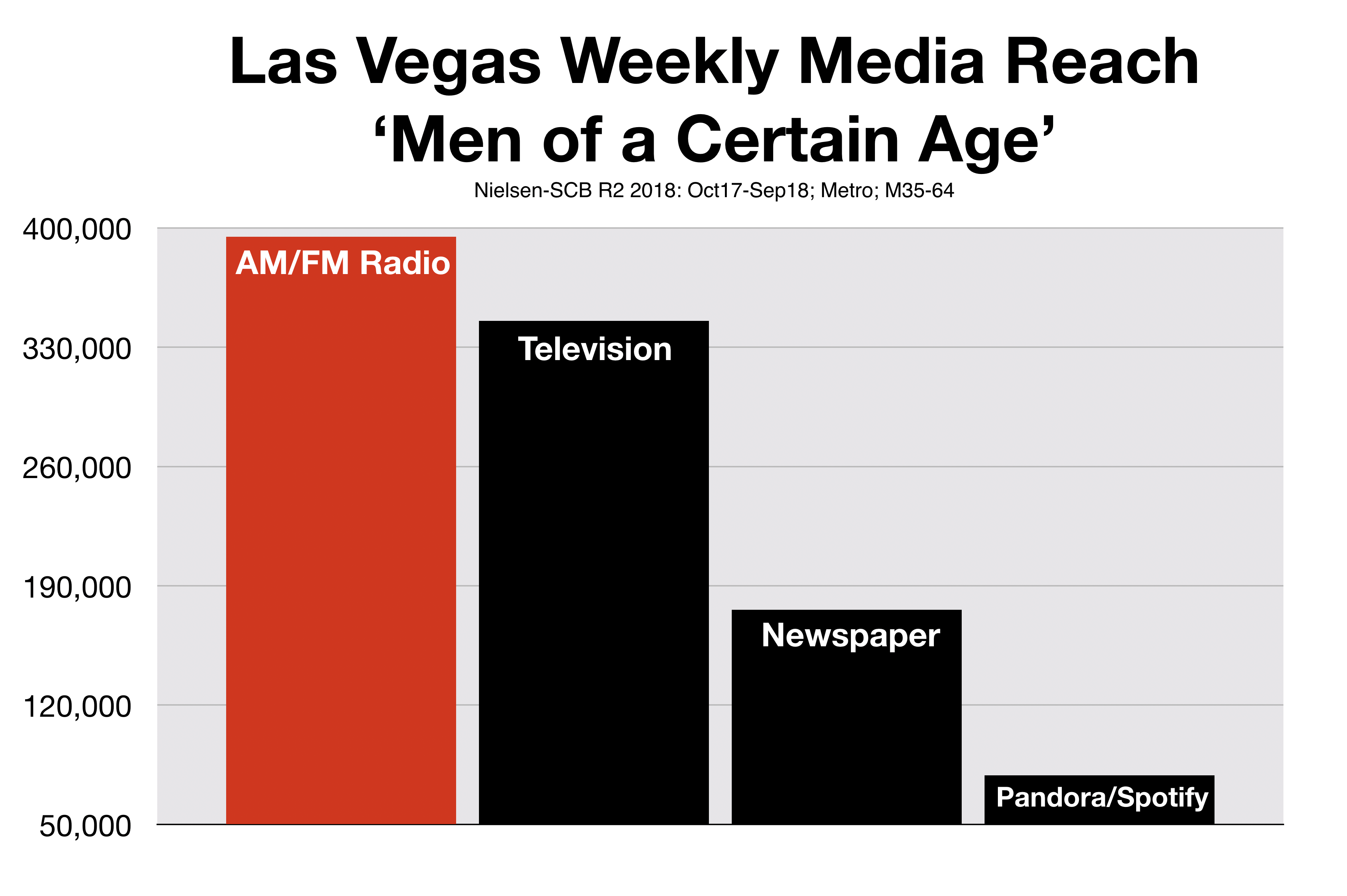 Mr. Pulliam says frequency is key to Numale's success advertising on Las Vegas radio, especially among his target audience.
"Look, most men avoid going to a doctor unless they are dying. But when there is an issue with the 'nether regions' they want a solution right away," he says. "So, I need to make sure when a man realizes he has a problem, we need our radio ads to be there for him."
"I know every time one of our radio commercials run because we see an immediate spike in phone calls and web traffic," says Mr. Pulliam. "That's why we need frequency. No matter how good our ads our, nobody is going to call us until they need us."
Another reason Mr. Pulliam needs to invest in frequency is because of the transient nature of Las Vegas. "People are always moving in out," he says. "We need to make sure that the new people know we are here if they need us."
Mr. Pulliam believes that of all advertising media, radio provides the most affordable way to build frequency. "We know," he says, "that when we invest $1.00 in radio, we will consistently get a $6.00 return-on-investment."
One other benefit of radio advertising Mr. Pulliam invests in is DJ endorsements. "There are four on-air personalities in Las Vegas who are also patients. They are willing to talk about their experience with our services during their shows. This is a humongous deal for us because their listeners absolutely trust them. This type of advertising is gold for us."
When asked how he knows for sure his advertising on Las Vegas radio works, Mr. Pulliam explains it this way:
"A few times we haven't been able to run our radio commercials because the stations have been overwhelmed with political advertising," he says. "We see the impact of this on our business immediately."
"The phone stops ringing. The website traffic slows down. Our patient bookings fall-off. It's almost like tumbleweeds in the office. Good thing this only happens once every four years."
Advertising Advice From Mr. Pulliam
Mr. Pulliam believes any Las Vegas small business owner can benefit from advertising on Las Vegas radio stations. He offers this advice:
Make sure to know your target audience. That will help to determine which radio stations to use
Where many advertisers fall short is not knowing how to explain what they do. Make sure your radio commercials educate your target customers
Include a strong call-to-action
Invest enough to buy enough frequency to be effective. There is a threshold that if it is not achieved, a business will just be wasting money.
"There is no better medium than radio," says Mr. Pulliam, "for spreading the word about a business."