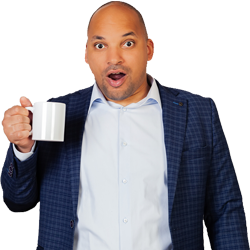 Local radio did to come to Las Vegas until 1930, when local resident John Heaton was awarded a license for KGIX.
Prior to the arrival of KGIX, radio listeners in Las Vegas were dependant mostly on distant broadcasts. These were primarily from Los Angeles based stations.
KGIX, unfortunately, lasted for only five years. The station was both underpowered and under-financed.
In 1939, a more successful radio station was licensed to Laure Belle and Maxwell Kelch of Las Vegas. The call letters KENO were chosen.
The inaugural broadcast of the station occurred in 1941 from studios located in the Meadows Nightclub on Boulder Highway. Shortly, thereafter the station moved to the El Rancho Vegas Hotel & Casino at 2500 Las Vegas Boulevard. It broadcast from that location until 1960.
For almost 100 years, small business owners have depended on local radio stations to successfully market their goods and services through depressions, recessions, wars, and natural disasters. Even now, during a pandemic, advertising on Las Vegas radio remains a dependable way to make cash registers ring.
Here are five facts every Las Vegas Small business owner needs to know about local radio in 2020.