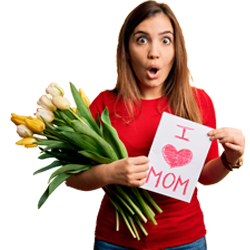 Mother's Day is On May 14th this year. According to per capita data from The National Retail Federation, 1.5 million adult consumers in the Las Vegas area plan to celebrate the occasion.
Between now and that special Sunday in May, the NRF expects a record $313.4 million to be spent in Las Vegas to honor all the different moms in consumers' lives. Of those celebrating Mother's Day, most (57%) are purchasing gifts for a mother or stepmother, followed by a wife (23%) or daughter (12%).
Comparatively speaking, Las Vegas area consumers will spend 12.6% more to celebrate Monther's Day this year than they did in 2022, which was also a record year.
"Mother's Day provides Americans with an opportunity to honor important women in their lives," NRF President and CEO Matthew Shay said. "As people make plans to celebrate this year, retailers are prepared to help shoppers find gifts of appreciation and admiration for those they want to recognize on this special day."
Almost half of all Mother's Day spending in the Las Vegas area will fall into three categories:
Jewelry: $68,463,785
Special Outing: $49,153,487
Electronics: $35,109,634
The other half of Mother's Day spending includes purchases of gift cards, clothing, flowers, personal services, housewares, books, and greeting cards.
The challenge for Las Vegas area retailers, however, is keeping a significant share of these Mother's Day dollars in local cash registers and out of the coffers of online sellers and department stores. Right now, according to the NRF, those two retail channels will gobble up almost 68% of all spending.
To earn a larger share of Mother's Day spending, local small business owners will need to advertise to convince Las Vegas consumers of the benefits of buying from local companies. By almost every marketing metric, the best way to advertise is on Las Vegas radio.